Sunday Mornings
On Sunday mornings we gather at 10:00 a.m.  All are welcome.  At all of our services, we use the Book of Alternative Services (BAS), page 185.
Friday Mornings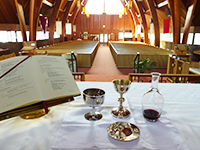 On Friday mornings from September to June we gather at 10:00 a.m. for a half-hour said service.
Other Services
Throughout the year we have special services (e.g. Ash Wednesday, Holy Week, Christmas Eve, Christmas Day, Advent and Lenten Candlelight services), please check our calendar for more information.